Published: 28/10/2019
By The Abode Team
Heidi von Johnston is what is coloquially called a swallow, flitting between Europe and Africa. She was born in South Africa in 1968 and had a vividly colourful and unusual childhood. In 1995, her need for creative expression compelled her to start painting. She studied with the artist, Karin Daymond, who insisted that her students learn the traditional basics of drawing and painting, and these have formed the building blocks of Heidi's art journey.
In 1999, Heidi took the drastic step of packing up her life in South Africa to go travelling. Her travels took her all over the world, until she settled in Umbria, Italy. Heidi's life has been one of contrast, from a very privileged childhood that was shattered by tragedy and trauma, to crafting a life in a foreign country. Her personal journey has escalated in the past year, when she discovered the power of painting from a place deep in her being, and the healing that can emerge from this process.
Heidi's visual vocabulary has been formed by her 'swallow' status, with repeated reference to her African background appearing in her work. These are not simply things, but vehicles that carry her hope and dreams, expressing her sense of where she comes from, and ultimately who she is.
Heidi's solo exhibition,
Finding Myself
, is to take place in Sansepolcro at the Palazzo Pretorio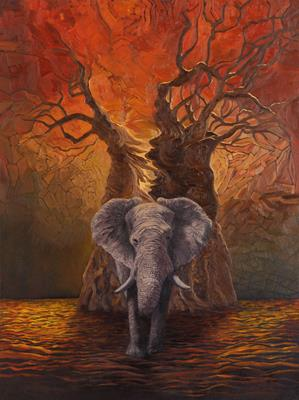 Opening times;
23rd of November - 18:30 - 20:00
24th of November - 15:30 -20:00
Then from the 25th until the 30th of November - 18:00 - 20:00
1st of December 9:30 - 13:00 and then from 18:00 - 20:00
Contacts:
E-mail: hvonjohnston143@hotmail.com
Instagram: @vonjohnstonart
Facebook: Heidi von Johnston