Published: 25/10/2019
By The Abode Team
Beautiful religious artworks by Flemish artists from the sixteenth century can be found in central Italy including art in the Sistine chapel and Orvieto Duomo.
Beeldenstorm is a Dutch word describing the tumultuous movement in the sixteenth century where, throughout areas of north Europe, there was widespread destruction of religious imagery. During this phase, led by Calvinist Protestant crowds as part of the Protestant Reformation, many churches with Catholic art were defaced in a storm of destruction carried out by large groups of protesters. Therefore between the 1550s and 1570s a number of Flemish artists moved to Italy in order to continue their art form. Most of them were unable to sustain their lives in Italy and returned but left beautiful works behind them as their contribution.
Here below is a brief list of some of them and where you can see their outstanding works of art:

Arrigo Fiammingo
- (1519-97)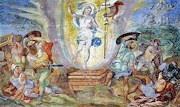 Resurrection of Christ (ca. 1572) by Arrigo Fiammingo Sistine Chapel, Vatican.
Arrigo Fiammingo da Malines (Hendrik van den Broeck, Heinrich Paludanus) originated from Mechelen (Malines) in modern day Belgium. He was respected by other artists and was described as a master of glass windows and used these skills under Giorgio Vasari in Palazzo Vecchio, Florence in 1557-8. Arrigo Fiammingo initiated an altarpiece in the Duomo in Orvieto in 1565 (see below). He worked on the frescoes of the Santuario di Mongiovino at Panicale, near Lake Trasimeno, and the glass there. He received citizenship of Perugia in 1579. Arrigo also worked on a fresco of the Resurrection of Christ on the entrance wall of the Sistine Chapel. He again collaborated with Giorgio Vasari on the frescoes (1572-3) of the Sala Regia in the Vatican Palace. He died in Rome in 1597.
San Bernardino of Siena preaching (1565) Stain glass window in Cappella di San Bernardino in the Duomo Siena.

Karel van Mander
(1548- 1606) was born in Meulebeke in what is now Belgium and his frescoes can be seen in Terni.
Francesco da Castello
(died 1621)
Francesco da Castello (Frans van de Kasteele), who was from Brussels, established an important studio in Rome. He was noted there in 1577, and again in 1587, when Hendrik de Clerck (below) appeared as a witness on his behalf, and he died there in 1621. Francesco da Castello signed and dated the panels on the altars at the ends of the aisles of San Lorenzo, which were sent to Spello from Rome:
Hendrik de Clerck
(died 1630)
Hendrik de Clerck, who probably came from Brussels, was documented in Italy only once: in 1587, he appeared as a witness in Rome on behalf of Frans van de Kasteele (above). He subsequently returned to the Low Countries, where he was appointed as court painter to the Archduke Ernest in Brussels in 1594. Todi - The fine altarpiece, which is on the left wall of Santa Prassede, is attributed to Hendrick de Clerk.
Peter Paul Rubens
- One of the greatest baroque Flemish painters
Rubens spent most of his 20s in Italy, soaking up the influences of Caravaggio, Titian, Leonardo da Vinci, Veronese, Tintoretto, and Michelangelo.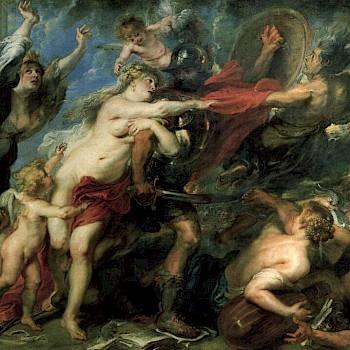 "The Consequences of War" (1637–38) Pitti Palace, Florence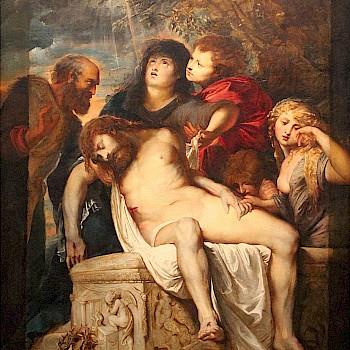 "The Deposition" or "The Lamentation over the Dead Christ" (1602) in the Galleria Borghese, Rome